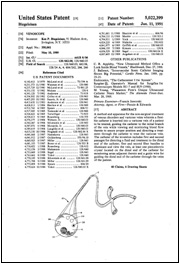 Patenting, marketing and expropriation of the Venoscope
In 1989 I had applied for, and in 1991 I was granted U.S. Patent # 5,022,399 for the Venoscope. Frankly, I was surprised that the Patent Office granted it, since I had prior experience with them, and knew that they could be extremely difficult to deal with. But, for whatever reason, they approved this patent application after only two years of arguments.
I then embarked on a program to sell the Venoscope concept to industry. I approached dozens of companies, including the fiberoptic giants (Olympus and Baxter) and all the lesser manufacturers (including but not limited to the following: Schott, Medscan, Eli Lilly, GV Medical, Intramed, United States Surgical, Valleylab/Pfizer, Circon/ACMI, Cardiovascular Imaging Systems, ET Medical Systems, BTG International, and, later, Diomed and Angiodynamics). No one wanted to have anything to do with the Venoscope, the typical rejection letter reading something like this: "This invention is not needed -- our consultants inform us that existing remedies are adequate".
Really? Then how come my invention is now in every hospital in the United States, and I get no royalties?
But I'm getting ahead of myself. In 2001, I got a call from my mother-in-law, informing me that a doctor was talking about "laser treatment of varicose veins" on television. I turned on my TV, and quickly located the report.
It was a primitive device, to say the least. Although it was fiberoptic-based, it couldn't even see into the vein. The optical fibers were there solely for burning. It had no doppler capabilities (i.e., it was, in a manner of speaking, "deaf"), no injection channel, and no mechanism for steering. It was good for nothing except blindly cannulating a huge varicose vein, and burning the living daylights out of it.
This would produce a result which would be predicted to be the equivalent of bad surgery, since it brutalized the vein without even the possibility of attending to the fine points of anatomy necessary to complete a properly-performed operation. Yet, almost from the start, spin masters were duplicitously proclaiming the new laser to be "the equivalent of surgery" (i.e., "good" surgery), and to be capable of bringing about "permanent cures". In other words, people were lying like hell.
The man giving the TV interview was one Robert Minn, a name I did not know. He was said to be on the faculty of New York Hospital/Cornell Medical Center. I called him immediately.
Do not think for a moment that I accused him of anything. The thought that he had "stolen" my invention never once entered my mind at that time, because his device seemed far too primitive to have been derived from the Venoscope. The purpose of my call, rather, was to propose that we collaborate. Toward this end, I first congratulated him on his good work, then tried to explain to him that his device only scratched the surface of what was possible with such catheter-based technology.
To my surprise, he responded to my proposal not with a "yes", or a "no", or even with a "maybe", but rather with mysterious words to the effect that "I would have to speak with his liason at 'the company' ". Strange...
It sounded like I was dealing with a futuristic sci-fi movie super-villian of some sort; a huge company which operated in the shadows, interacting with the public through non-empowered spokesmen. Be that as it may, I obeyed Minn's orders, and contacted his "liason" at the company, who turned out to be not an officer, but a salesman named Tony Jacobowsky. All Jacobowsky told me, however, was that he would take the matter up with his "superiors" at...The Company. Then, he said, he would get back to me.
But he never did get back to me.
Subsequently, I wrote, telephoned, and emailed "The Company" directly, but I never once got back so much as a 1-line reply. I never even received a courtesy form-letter acknowledging that I had written. Nevertheless I still, at that early juncture, was too naive to suspect patent infringement, and I put the matter on the back burner, pending further developments. I presumed, I think now perhaps wrongly, that there were no significant sales yet, and the thought of a lawsuit was far from my mind.
At that time (2001), I had already been enthusiastically promoting Venoscopy for twelve years. As soon as my patent application had been submitted (1989), I had immediately launched into a program of educational lectures and writings. Here are the six most prominent of those:
Biegeleisen K. Use of a Specially Modified Angioscope for Accurate Injection of Sites of Deep-to-Superficial Reflux in Varicose Veins. In: Proceedings of the 12th Annual Congress of the Phlebology Society of America, pp. 42-51. Published by the Phlebology Society of America, 5530 Wisconsin Avenue, NW, Washington, DC 20815. (Based on a presentation at the 12th Congress, May 18-20, 1989, Hyatt Regency Hotel, Kansas City, Missouri).
Biegeleisen K. Use of the Venoscope for the Treatment of Varicose Veins. Presented at the 10th World Congress of Phlebology, Strasbourg, France, September 25-29, 1989. Published in Phlebology 89 (Actes du 10e Congrés Mondial, Union Internationale de Phlébologie), John Libbey Co., Ltd., London, 1989, pp. 419-422.
Biegeleisen K. Venoscopy: A Useful Adjunct in Treating Varicose Veins. Proceedings of the 13th Annual Congress of the Phlebology Society of America. Published by the Phlebology Society of America, 5530 Wisconsin Avenue, NW, Washington, DC 20815. (Based on a presentation at the 12th Congress, May 10-12, 1990, Drake Hotel, Chicago, Illinois).
Biegeleisen K. Venoscopy (venous angioscopy) as an adjunct to the surgical and non-surgical treatment of varicose veins. Phlébologie 92 (Proceedings of the XIth World Congress of the International Union of Phlebology, Palais des Congrés, Montréal, Canada, August 30-September 4, 1992), Eds. P. Raymond-Martimbeau, R. Prescott, M. Zummo. John Libbey Eurotext, paris, 1992, pp. 677-679.
Biegeleisen K & Nielsen RD. Failure of angioscopically-guided sclerotherapy to permanently obliterate greater saphenous varicosity. Phlebology, 1994, 9:21-24.
Biegeleisen K. Macrosclerotherapy and angioscopy. Chapter in: Ambulatory Treatment of Venous Disease. Ed. Goldman MP, Bergan JJ. Mosby, St. Louis, MO., 1995, pp. 135-140.
The Venoscope concept had thus been revealed and discussed at two American Congresses of Phlebology, three World Congresses of Phlebology, one stringently peer-reviewed vascular journal (Phlebology), and a widely-read textbook edited by two of the most prominent figures in the venous field (Goldman and Bergan). I should note that at the 1989 World Congress (reference #2 above) I showed the world's first intravascular video of a prototype venoscopic therapy, namely a case of angioscopic sclerotherapy. Even to this day, this remains the most sophisticated venous therapeutic procedure which has been reported upon, since the field of Phlebology has only devolved since then.
It can thus be said, with certainty, that no one of any standing in the venous field can possibly have been unaware that Venoscopy was coming. It was only a question of when.
And come it did! But -- if we are to accept outward appearances -- apparently not from me. And not in the technologically-advanced form I had intended, but rather in the form of a backward-looking, stripped-down cheap marketing gimmick. I refer, of course, to the blind, deaf and dumb vein-burning catheter featured in the TV promotion mentioned above.
It was not until some years later that I realized who was the apparent "mastermind" behind this dumb but lucrative new invention. It was none other than Luis Navarro, one of New York City's most commercially-successful vein entrepreneurs. I was quite surprised, although I knew well of Navarro's earlier marketing activities. Around 1980, I launched the nation's first successful advertising campaign for non-surgical treatment of varicose veins (which, by the way, I am no longer proud of now) -- during a period when the medical profession was still very unsure about the propriety of medical advertising. Very shortly thereafter, Dr. Navarro launched his own advertising campaign, becoming the nation's second major vein advertiser. Draw your own conclusions.
When I hired a public relations man, becoming almost surely the first doctor to do a television story on non-surgical treatment of varicose veins (another "first" I'm not particularly proud of now), Navarro did likewise, becoming the second. Draw your own conclusions.
When I moved my office to 64th Street on New York City's east side, Navarro shortly afterwards moved his office to east 65th Street. Coincidence? Who can say? One day, a female patient with an accompanying man came to my office for a consultation, and my secretary recognized the accompanying man as none other than Luis Navarro himself. He did not announce himself, and had my secretary not recognized him, his visit would have gone un-noticed. What was he doing there? Draw your own conclusions.
In 1999, ten years after my Venoscope patent was filed with the U.S. Patent and Trademark Office, Luis Navarro and several collaborators (including Robert Minn) were granted a patent for their blind, deaf and dumb vein-burning laser catheter. It is said that "imitation is the sincerest form of flattery", and, I assure you, I'm most flattered. But where's the credit? The law requires that all "prior art" be acknowledged in a patent application. I'm not mentioned at all in the Navarro patent!
Is it possible that Navarro et al came up with the idea independently? Not likely. I've already listed my publications and presentations above. No one of even the slightest stature in the venous field can possibly have been totally unaware of this new approach, especially since I was not the only person discussing it (although I was, to the best of my knowledge, the only one to patent a fibroscopic catheter for venous work). Besides, one of the co-authors of the Navarro patent, Carlos Salat, had referenced my work in his own prior writings. It is thus established that they knew of my work. Their choice to pretend that I didn't exist was thus quite deliberate.